Do you know that there is a wide variety of flowers that start with the letter "O"? In this blog post, you can find 18 of the most beautiful flowers that start with O, along with their photos.
Read on to learn more about these gorgeous blooms!
Ox-eye Daisy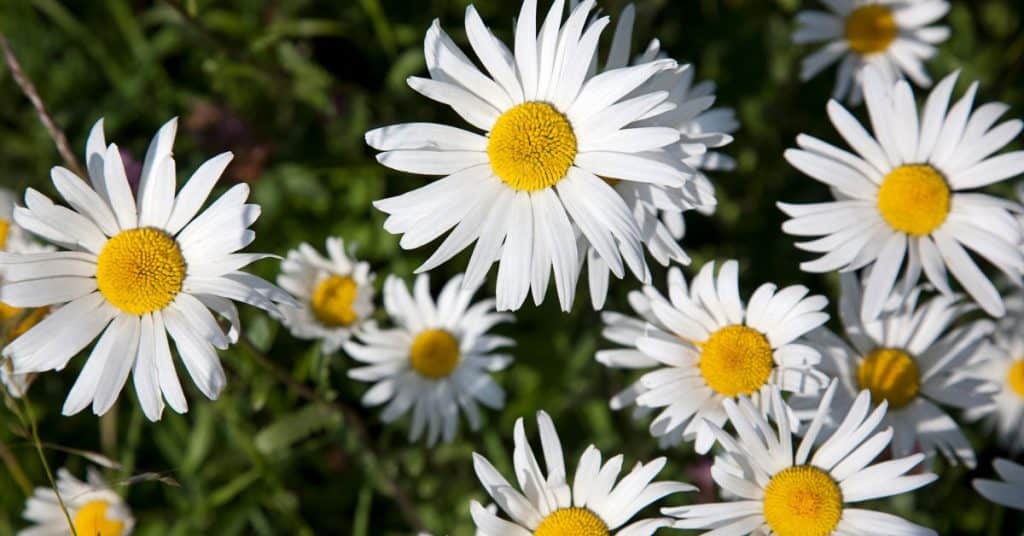 The Ox-eye Daisy, belonging to the Asteraceae family, is a perennial plant that blossoms during spring to early summer and is commonly seen across Europe, Asia, and North America in meadows and grasslands.
With a diameter of 2 to 3 cm, the yellow-centered white flowers of this daisy display a soft and fuzzy texture of light green foliage. Though some may consider the Ox-eye Daisy a weed, it is highly favored by various pollinators such as bees and butterflies.
Due to its effortless cultivation, it has become a favorite amongst home gardeners.
Oriental Lily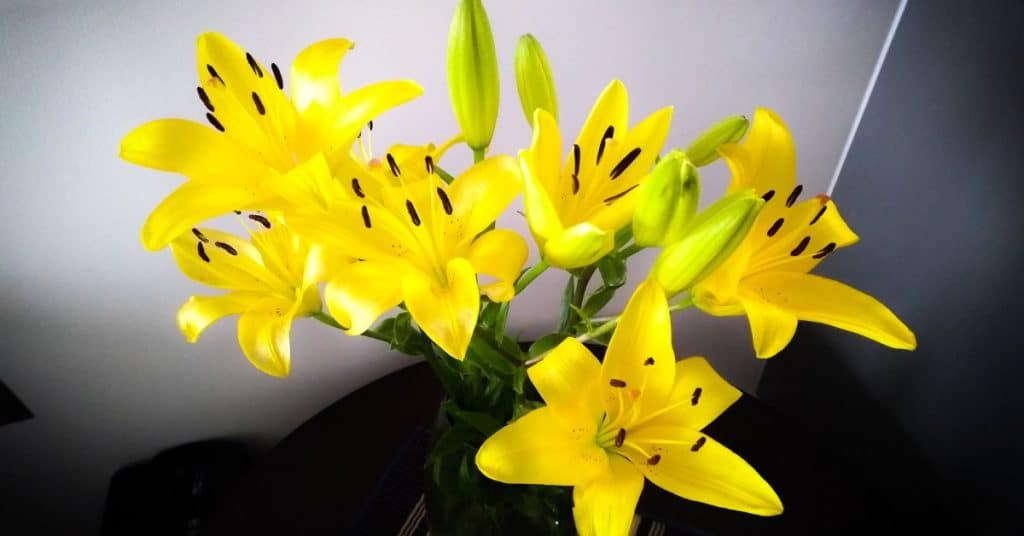 The beguiling Oriental lily, a prominent favorite of both gardeners and florists, is a prominent member of the lily family. Revered for its perfumed, bell-shaped blooms, this floral beauty is originally from Southeast Asia but can thrive in a vast array of climates.
Flourishing under the warmth of the sun and in soil that is free-draining, it is a top choice for flower-cutting gardens.
Available in a spectrum of hues, including but not restricted to white, pink, yellow, and orange, the Oriental lily is a plant cherished for its effortless upkeep and the effortless glamour it adds to any green space.
Orange coneflower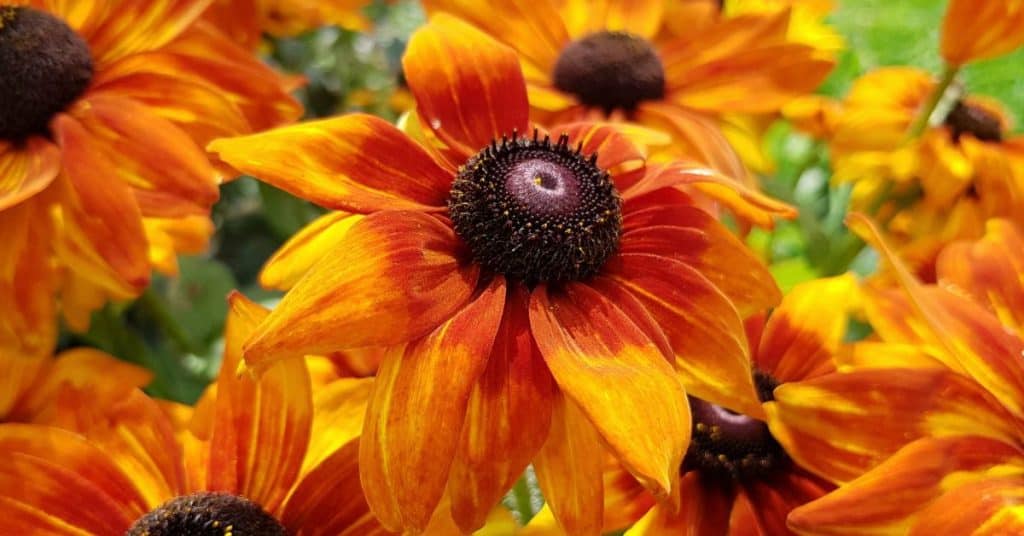 The Rudbeckia fulgida, commonly referred to as the orange coneflower, is an exquisite and celebrated floral species from the United States of America. This perennial vegetation towers between 2 to 3 feet, bearing eye-catching orange petals that enclose a dark brown cone at the center of the flower.
This sturdy plant possesses an adaptable disposition, allowing it to endure a vast array of climatic conditions, thus, facilitating easy cultivation in numerous areas across the country. Besides its effervescent and captivating facade, the orange coneflower is renowned for its potential medicinal properties.
Considering its gorgeous hue, low-maintenance nature, and possible health advantages, the orange coneflower is an excellent option to incorporate into any garden.
Ox-eye sunflower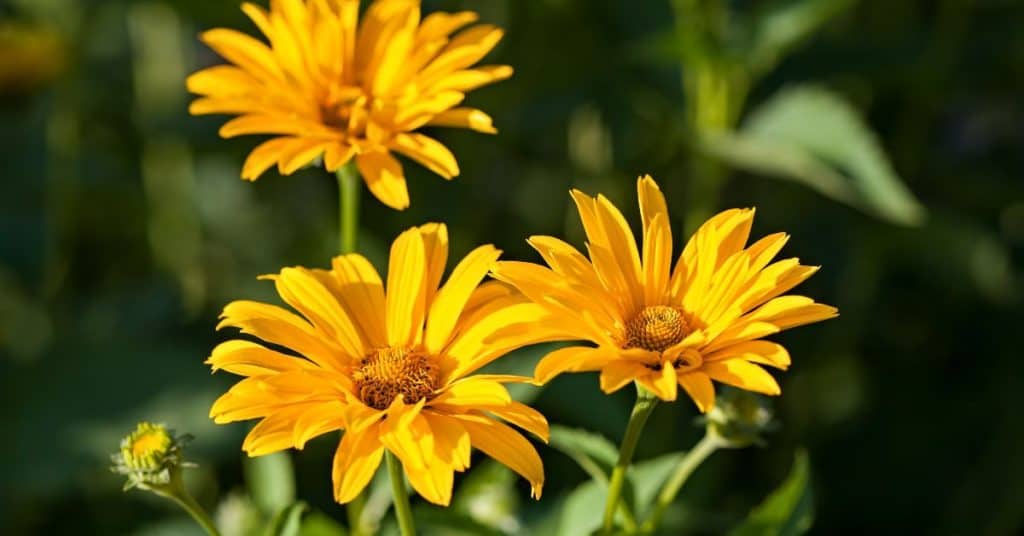 The herbaceous perennial, Ox-eye sunflower is an exquisite bloom indigenous to North America. This tall and rugged plant creates stunning daisy-like flowers in vivid yellow hues with a deep, purplish-brown core. The greenery displays an alluring dark shade and has a lance-like shape.
The Ox-eye sunflower is highly sought after as a garden essential, with select breeds stretching up to a height of 8 feet. Its adaptability and endurance make it a hassle-free addition, suiting an array of soil categories and weather conditions.
This beautiful perennial thrives best during spring and can be easily propagated via cuttings or seed. Exposure to full sunlight and regular watering is highly recommended for optimal growth during summer.
Orienpet Lily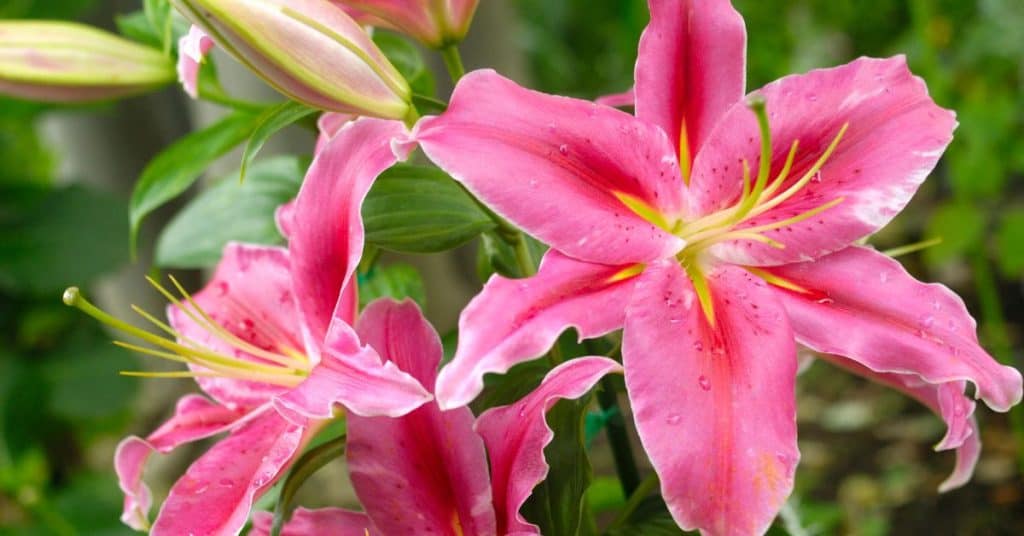 The exquisite Orienpet Lily, a beguiling hybrid flower with a great fusion of the best attributes of Oriental and trumpet lilies, boasts of its impressive and ostentatious blooms. Its majestic, trumpet-shaped flowers are colossal, and with the stunning radiance of its deep, vivid hues, it creates an alluring ambiance that captivates any onlooker.
Shades of pink, white, yellow, and orange adorn the blooms, and some of these elegant varieties boast of having more than one shade. The Orienpet Lily also showcases its exquisite foliage and long and dark green leaves that accentuate and imbue the garden with remarkable texture.
This versatile and resilient plant requires minimal attention and can withstand various climatic conditions.
Oregon Grape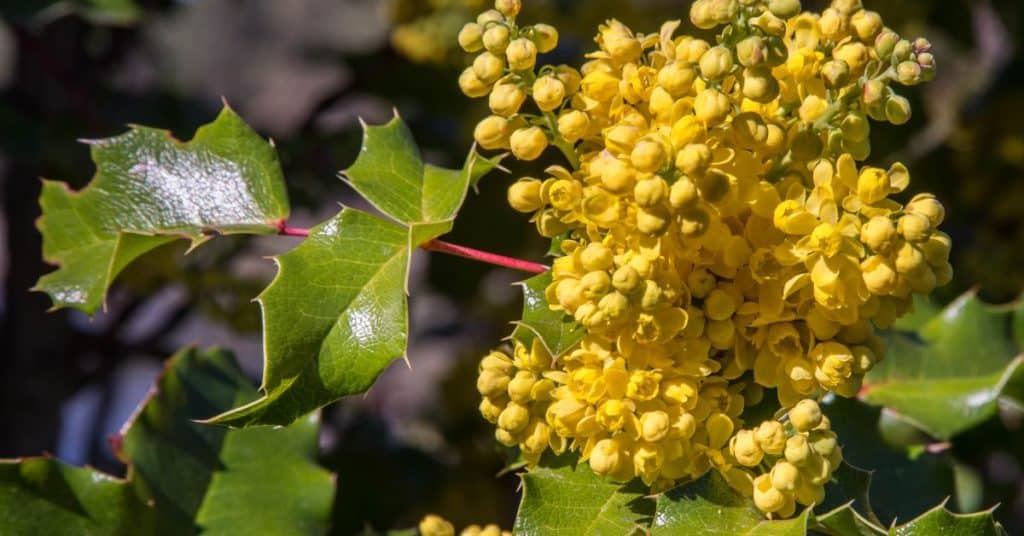 Oregon Grape, an evergreen shrub, thrives in the Pacific Northwest region of the United States. This drought-resistant and resilient plant can be found in various wild areas such as forests and fields.
The shrub boasts glossy foliage that resembles holly leaves and presents a stunning sight in the summer season with clusters of bright yellow flowers. In the autumn season, these flowers morph into small, tart blue-black berries, which are widely used in the creation of delectable jams, jellies, and other gastronomic delights.
The Oregon Grape is a crucial part of the native ecosystem, providing food and shelter to the wildlife and safeguarding the soil from erosion.
Orange daylily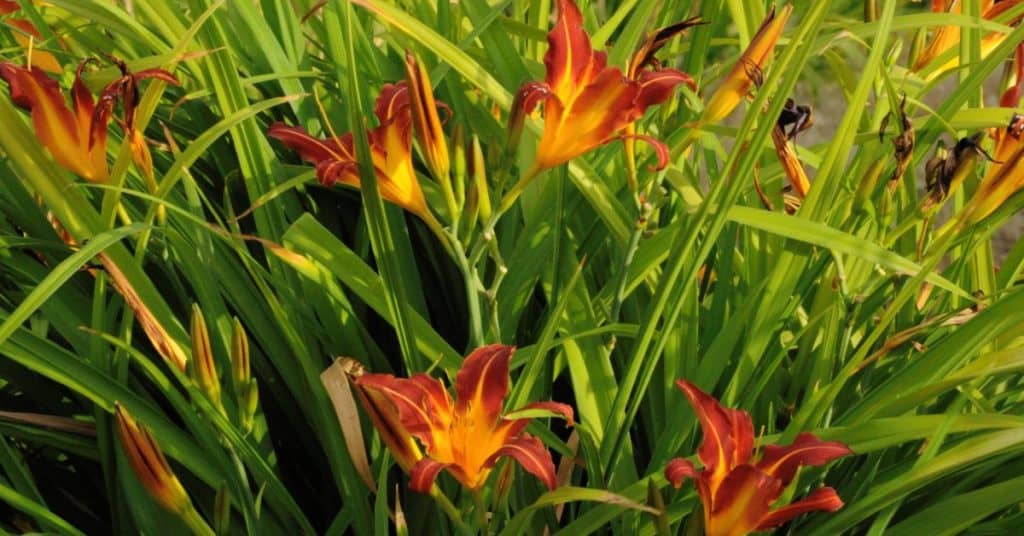 The Orange daylily, a dazzling blossom native to Asia, boasts vivid orange-yellow petals that take on the form of a striking star. Perfect for cut flower arrangements, the long slender stems add elegance and panache.
These flowers thrive in the summer months, typically blooming between the late June to mid-July period, with petal durability of up to seven days. A gardener's dream, these daylilies are low maintenance and drought-resistant, especially appealing to those short on time.
Without the need for specialized care or treatments, this robust plant has the added bonus of being resistant to pests and diseases. Introducing the Orange daylily into any garden is an effortless way to ensure long-lasting beauty that is sure to catch the eye.
Ocean pearls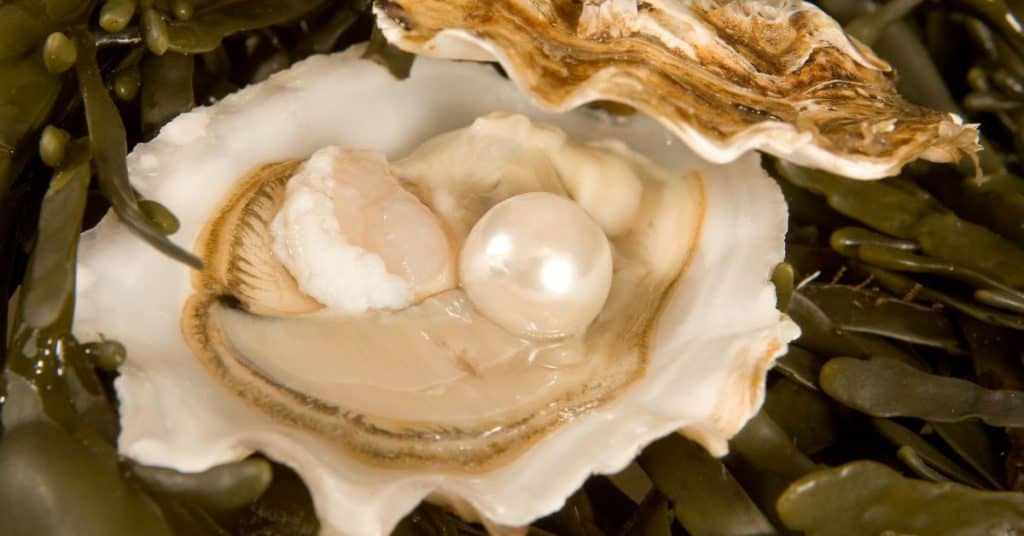 Ocean Pearls flower is a beautiful and unique flower that is found in tropical waters around the world. It's commonly found in the Caribbean, the Gulf of Mexico, and the Mediterranean.
Its petals are iridescent blue, which gives it a captivating and ethereal look. The flower is believed to be a symbol of luck and protection, and it is often used in jewelry and artwork.
Ocean Pearls flower is a stunning and vibrant addition to any garden, and its unique beauty makes it a popular choice for special occasions and weddings.
Oleander Plant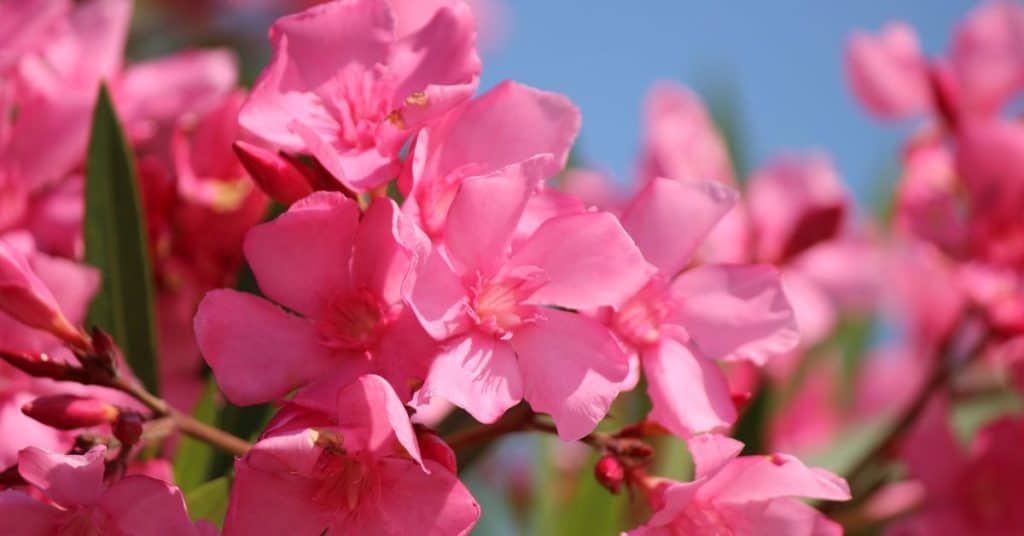 The mesmerizing Oleander flora is a beautiful blooming shrub that has gained popularity in various tropical regions. Indigenously found in the Mediterranean belt, the Oleander is a perpetual shrub with a soaring height of 6 feet and an impressive width of 8 feet.
The lush Oleander boasts of its glossy, dark green leaves and an ostentatious array of fragrant flowers in the tones of pink, red, yellow, and white. The enthralling flowers draw in a diverse array of buzzing bees and fluttering butterflies.
The unchallenging growth and drought-resistant property of the Oleander make it an impeccable selection for arid gardens. Moreover, its multi-dimensional nature renders it useful as a hedge, a sample plant, or even in pots.
Oriental Poppy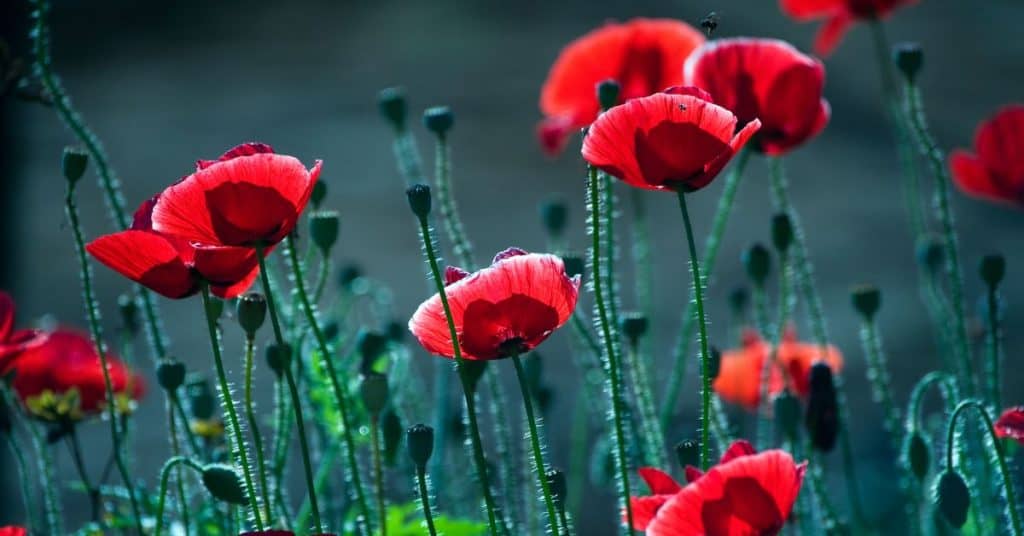 The iconic Oriental poppy flaunts its exuberant shades of red, pink, and orange, native to the Eastern Mediterranean and Asia and adaptable to diverse climatic conditions.
The flower's splendor is attributed to the large, circular blooms, with four to six intricately designed petals. The center houses a captivating tuft of vibrant yellow stamens. The leaves, with their powdery greyish-green hue, are extensive and lobed, adding to their magnificence.
The Oriental poppy is renowned for its pompous flowers, cherished since ancient times and preferred for moist, well-drained soil. In the summertime, the flower blooms and dazzles as a single specimen or a cluster of flowers, adding color and vivacity to any garden border.
Orlaya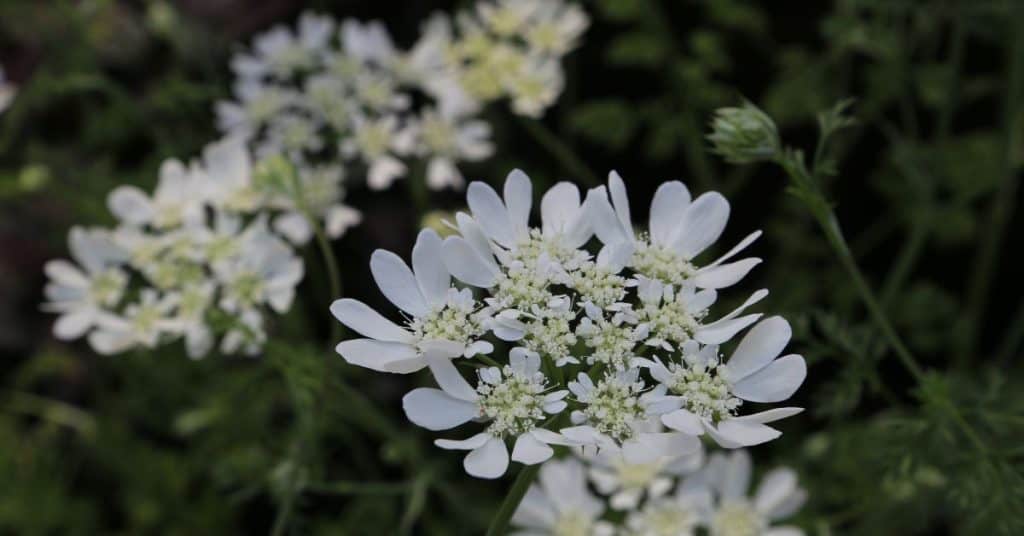 Orlaya is a singular blossom that boasts a fascinating narrative. Hailing from the Mediterranean region, this annual specimen has been widely propagated throughout Europe and certain parts of Asia.
What sets this botanical apart is its fragile, milky-white petals, which radiate outwards in a starburst configuration of precisely five points. Blossoms are often emblematic of new states of being and virtue.
Orchid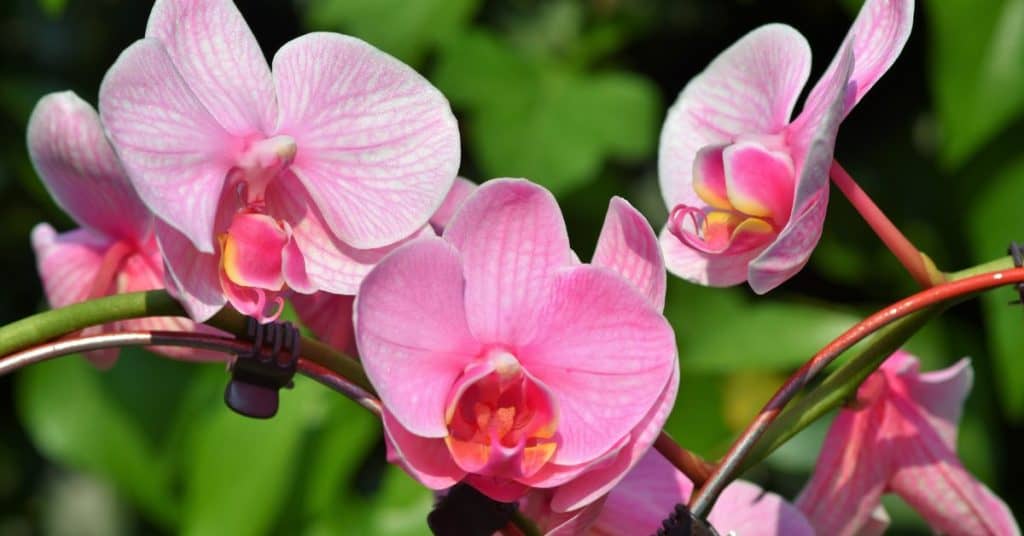 Orchids, the opulent O-flower, astound with their alluring petals and vivid hues, undoubtedly a botanical masterpiece in any garden. Furthermore, their long-lasting blossoms are famed for their resplendence, as certain strains remain resplendent even after months of dormancy.
With their diverse forms, ranging from dainty miniature buds to grandiose floral marvels, orchids undoubtedly deserve their place as one of the most distinguished blossoms.
Additionally, depending on the variation, they can flourish both indoors and outdoors, making them versatile plants.
Ornithogalum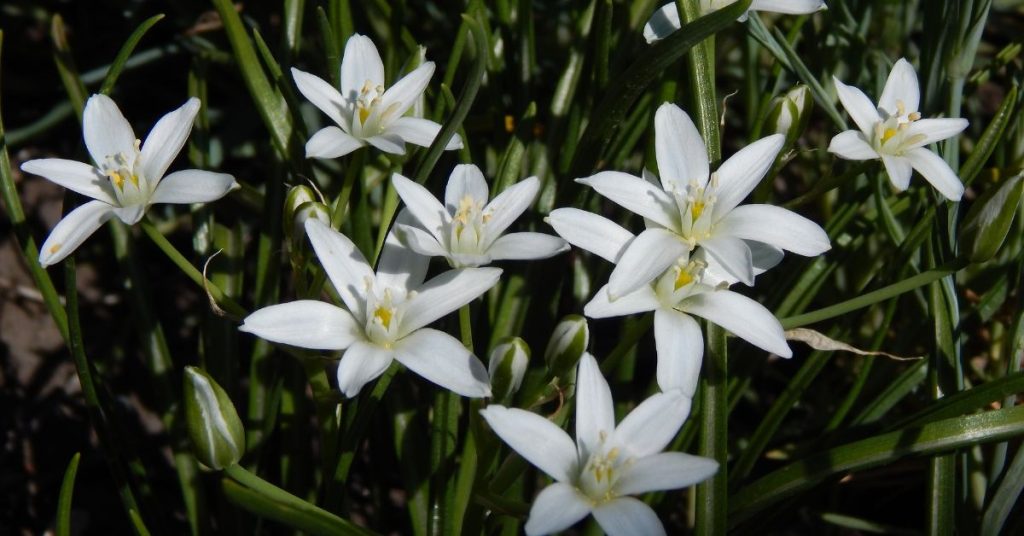 Ornithogalum, a genus of blooming flora belonging to the family Hyacinthaceae, encompasses the familiar star-of-Bethlehem or chincherinchee.
Native to Europe, North Africa, and select areas of Asia, these plants are recognized for their ability to bloom into white, yellow, or orange-hued flowers. Among the genus, Ornithogalum thyrsoides, also referred to as the common star of Bethlehem, garners the most recognized due to its thin, elongated stems bearing groups of star-shaped white blossoms.
Ornithogalum is a favored addition to gardens and is commonly utilized in compositions of dried flowers and floral arrangements.
Obovate Peony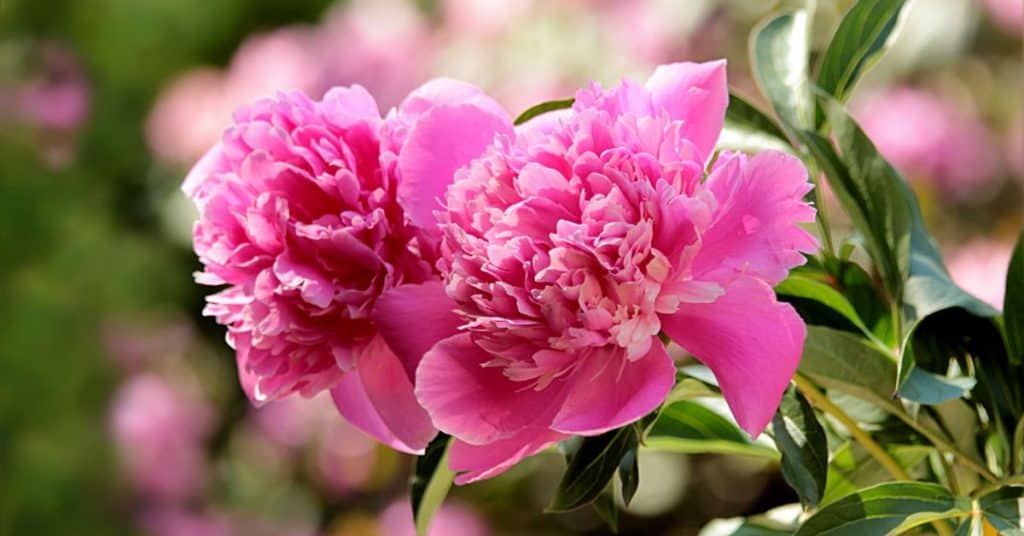 The resplendent Obovate Peony, originating from the far-reaching lands of China and Japan, is a perennial flower admired for its vibrant fuchsia petals and dense, leafy foliage. It is an ornamental plant that has enthralled gardeners globally with its spectacular beauty.
This exquisite flower boasts of its characteristic obovate leaves, which are elliptical with a narrower base and broader tip and are genuinely distinctive. The petals are opulent pink and have a peculiar texture that exudes radiance and grandeur in any garden.
Uncommonly, the Obovate Peony blooms in the latter part of spring, rendering it a delightful option for those who desire a later addition of blooming flowers in their garden.
Ornamental Onion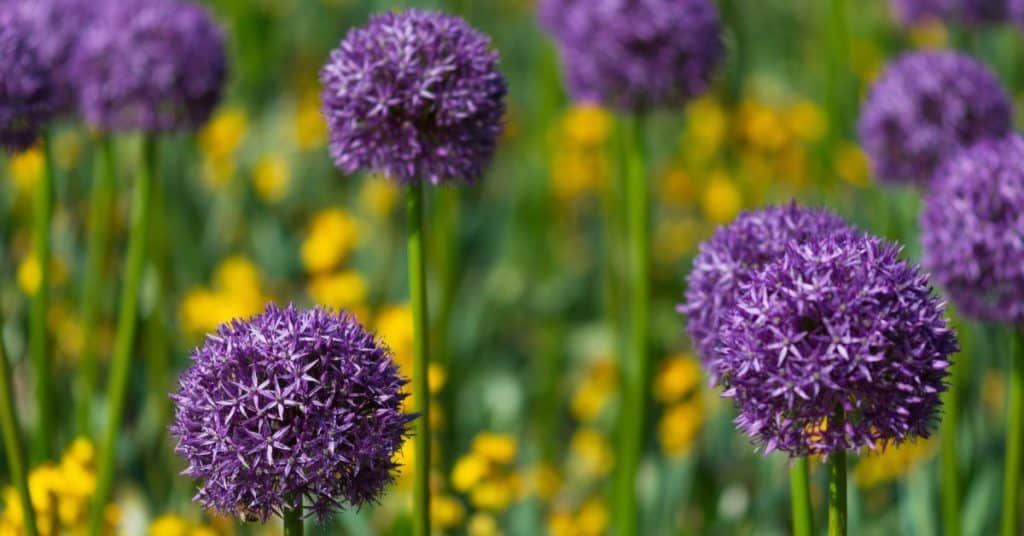 The beguiling Allium Globemaster, more commonly known as the Ornamental Onion, possesses a grandeur that is sure to enhance any garden with its colorful and textural properties.
Its splendid globular blooms are resplendent with an alluring shade of purple, imparting a distinctive aroma reminiscent of its namesake. The leaves are a luscious shade of deep green, which beautifully contrasts with its vibrant blooms.
This resolute perennial is drought-resistant and can thrive even in cold temperatures, making it a stalwart choice for colder climates. Its low maintenance requirements and minimal upkeep make it an excellent choice for those who are new to gardening or possess a busy schedule.
Osteospermum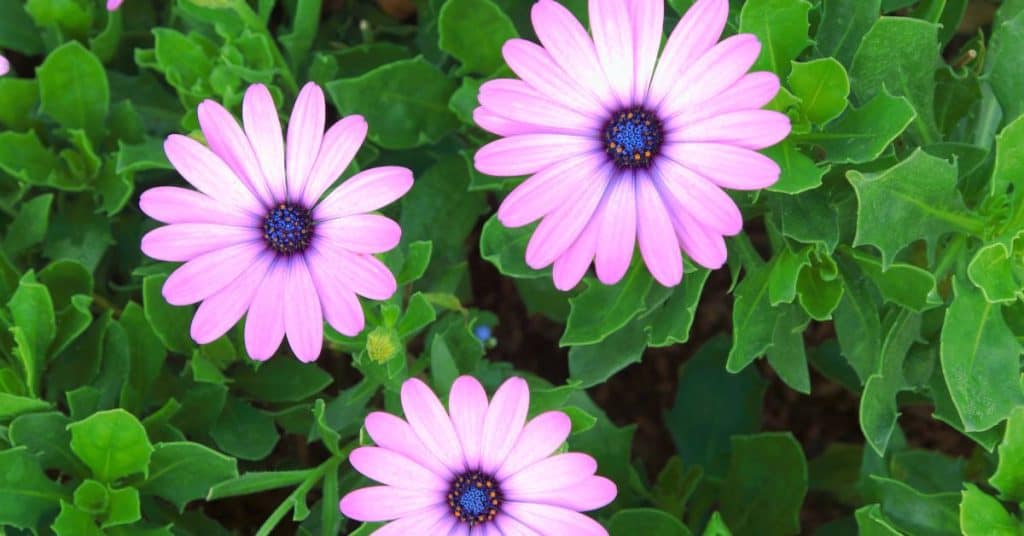 The genus of flowering plants in the sunflower family, Osteospermum, colloquially known as the African Daisy, is renowned for its brightly colored daisy-like flowers and originates from the southern and eastern African regions.
These plants produce a plethora of chromatic flowers ranging from white to pink, yellow, blue, and purple, and bloom primarily during the summer months, namely late spring to early fall.
Being very low maintenance, Osteospermum plants can be grown in most climate zones, albeit necessitating some level of frost protection in frigid areas. These plants thrive in well-drained soil and full sun exposure, necessitating thorough watering, albeit not too frequently.
Oyster Plant
The perennial herb Mertensia Maritima, colloquially known as the Oyster Plant, originates from the northern coastlines of North America. Its distinct oyster-like appearance is the primary reason behind its nomenclature.
The Oyster Plant is a tenacious species capable of flourishing in both rocky and sandy environments, provided they are under full sun.
The bell-shaped flowers, small and colored blue and white, grow in clusters and bloom in the spring and early summer, with the leaves retaining their aesthetic appeal throughout the season.
Ideal for rock gardens, coastal gardens, and borders, the Oyster Plant's low-maintenance nature makes it a suitable option.
Ohio Spiderwort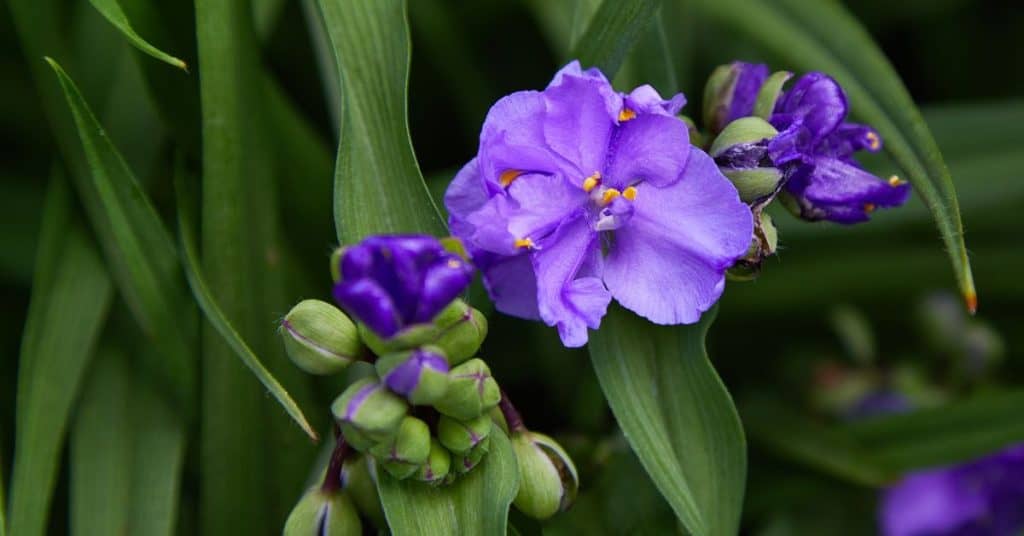 Ohio Spiderwort, a wildflower indigenous to the US, can be found thriving in sun-drenched and damp regions across the nation. It is a long-lasting plant boasting leafage similar to that of grass, as well as small, dainty, star-shaped petals in hues such as white, pink, purple, and blue.
The planting of Ohio Spiderwort is not only effortless but it can also be accomplished using an array of soil types. Pollinators such as butterflies and bees are captivated by the petals' splendor, while the foliage adds an attractive visual element to any landscape.
In addition, Ohio Spiderwort is renowned for its medicinal properties, historically used for its treatment of skin-related maladies, wounds, and burns. Those seeking an alluring and multifaceted indigenous botanical for their gardens should consider Ohio Spiderwort.
Final Thoughts
This blog post provided a comprehensive list of eighteen exquisite flowers that begin with the letter O.
From the fragile and elegant Orchid to the remarkable and striking Ox-eye Daisy, each of these flowers has its own unique qualities and attributes to offer, making them ideal for a diverse range of occasions.
Whether your objective is to embellish your garden, create a bouquet, or simply appreciate the sheer magnificence of nature, this exhaustive list of O-named flowers is the perfect starting point for your adventure!
So, what is your personal favorite amongst these spellbinding flowers that begin with O? Kindly share your thoughts in the comment section below.
You May Also Like: